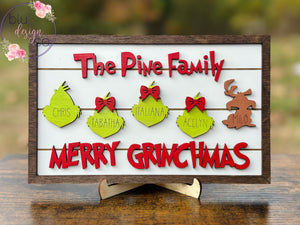 Create your own Grinchy family to display during the holidays! Laser cut and engraved with your choice of shapes and names. Names will go from left to right. Please specify whigh ones need a bow and if any are dogs. Please also leave family name for top. Size of sign varies based on number of names. Stand included.
 

>> Size:

1-3 Names: 5.25in x 5.25in
4-6 Names: 5.25in x 8.5in
7-8 Names: 5.25in x 12in


>> I'm happy to help if you have any questions; just shoot me a message!